Large, low, flat pieces take the longest to get fired.  These pieces take up a lot of room on the kiln shelf.  The technician can fire 15 to 20 6-8 inch high pieces on a kiln shelf, but only 6-8 large flat pieces.
Your piece must be stable and balanced.  If your work is unbalanced, it may tip over on the cart while the cart is being rolled into the kiln room.  If it does make it into the kiln room, the piece may tip over while the kiln shelf is being loaded, or may tip over while it is being fired and ruin someone else's work.   Make sure your work is stable and balanced!
Always clean the bottom of the piece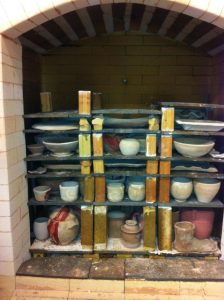 thoroughly.  If there is glaze on the bottom, it will end up on the "reject shelf".
Always use a cookie under your work.  It is best if the cookie is glued to the piece.  Use white glue (Elmer's) to glue the cookie to your work.  Use kiln wash on cookies that you plan to reuse.
Don't add your piece to the cart as it is being filled.  The technician is taking pieces from the shelves that will fit into the kiln.  The technician is the ONLY person allowed to add pieces to the cart.
The pieces are selected that will fit into the kiln in an efficient way.  Loading the kiln to ensure that the most pieces are fired at one time is of primary importance.  It is very expensive to run the kiln and it must be filled to capacity.
The ideal size to get your work fired quickly is 9-12 inches high.  Another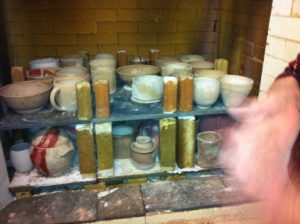 ideal size is 6-8 inches in a cylindrical shape.  Filler pieces in the 3 inch by 4 inch size will also get fired faster.
Your work should be less than 18 inches in diameter.  If it is too low and large, the piece will take longer to get fired.
Don't interrupt the technician while he/she is in the kiln room.  It takes concentration and skill to load and fire the kiln, so please don't disturb the process.