Welcome to the Potters and Sculptors Club!
Subscribe to Website Updates
Second Thursday Classes
Join us from 5 pm to 6 pm for our second Thursday classes.  From learning new techniques to meeting new friends, drop on by and have some fun.
Artist Spotlight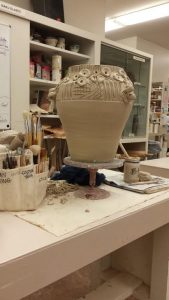 Vivian has been working on a vase this week. It's handmade with coils and carvings. We are looking forward to seeing the finished piece! ...
Read More