Welcome to the Potters and Sculptors Club!
Subscribe to Website Updates
Second Thursday Classes
Join us from 5 pm to 6 pm for our second Thursday classes.  From learning new techniques to meeting new friends, drop on by and have some fun.
Artist Spotlight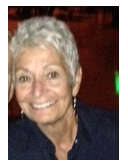 Our featured artist is Marilyn de Leo Pollock.  Marilyn is a native Californian, she lived in Los Angeles, New York and Rome, Italy.  Marilyn has a BS in International Advertising and Marketing. As a senior manager in advertising for various agencies, as a principal in de Leo International and as a ...
Read More