Our featured artist is Marilyn de Leo Pollock.  Marilyn is a native Californian, she lived in Los Angeles, New York and Rome, Italy.  Marilyn has a BS in International Advertising and Marketing. As a senior manager in advertising for various agencies, as a principal in de Leo International and as a fundraiser for medical non-profits, she worked in Europe, Asia and North America.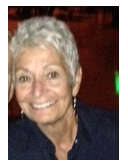 She moved to Laguna Woods in 2011 where she met and married Bill Pollock.  Marilyn managed marketing, advertising and creative teams, yet always longed for the opportunity to explore her creative side. In March 2015 she began working in the Slip Castings and Pottery Studios where she quickly became addicted to working in clay, spending up to 7 days a week in the Slip Casting Studio. Bill would often tease her, asking each morning before she left, "Are you going to work now?"
She will share with you that she loves pouring a mold and then deconstructing and reconstructing what comes out of it. It allows her to pursue etching, sculpting and enhancing with add-ons. Recently she completed her 'Wonderland Series', based on the original illustrations by Sir John Tenniel, published in 1865, in Lewis Carroll's Alice in Wonderland.  Marilyn began each piece with pouring a teapot mold, then added clay and sculpted each character in the series.
Her 'Series in Green' shows the versatility of using a mold as a base. "All the rest" as she says, "is up to your imagination".
For further information on her work, she may be contacted at
917-968-1188 or mdeleointernation@gmail.com.