By Rosemary Schalek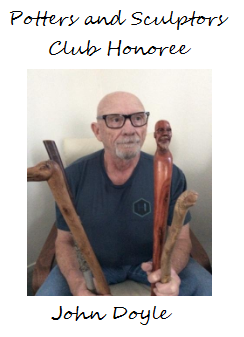 John was born in Pittsburgh into a large family.  From an early age, he displayed artistic talent and his teachers recognized this talent throughout his grammar and high school years.  His first art project was designing a large mural in 6th grade. During his high school years, he took art and design classes, and won a juried art contest for his depiction of a multi-racial street scene in Pittsburgh.
Following high school graduation, John joined the Air Force and was stationed years in Southeast Asia for two years.  He travelled during that time, enjoying the countryside and local art work that he saw.  Upon his discharge from the Air Force, John enrolled in a three-year graphic design program at the Ivy School of Art of Pittsburgh.
John moved to California following art school graduation and, shortly thereafter, met his soon-to-be wife, Mary.  John and Mary accompanied one of John's art school professors to Lucca, Italy, where they spent three months.  John did plein air sketching with charcoal pencils, and both John and Mary enjoyed the local landscape and culture.
The Doyles returned to California, had two daughters and lived in Manhattan Beach.  During his career, John worked his way up to the position of Art Director, and upon his retirement, John and Mary moved to Laguna Woods Village in 2004.
John enjoys sculpting and, over the years, has worked in clay, stone and wood.  Since moving to our Village, he has worked in alabaster, marble, soapstone, and frequently collects fallen limbs from the local trees.  He carves these limbs into walking sticks with ornate, carved heads.
He joined the Potters and Sculptors Club in 2006.  John held many volunteer positions within the Club over the years that included Supervisor, Head Supervisor, Vice President, and served as the President of the Club for three years.
We are pleased to honor John for his many years of service to the Potters and Sculptors Club!