By Rosemary Schalek
This month, we are featuring the artwork of Potters and Sculptors Club member, Okja Shin.
Okja was born in Japan — her family moved to Korea when she was a small child.  She married, and she and her husband came to America in 1966.  Okja has four children.  The family moved to Chicago, New York, and to Detroit, where her husband practiced medicine for 30 years.  Okja and her husband moved to Laguna Woods Village about 6 years ago.
Okja and her husband traveled all over the world.  During their travels, she was inspired by all the great works of art they saw.  Okja is a multi-talented artist and, over the last 50 years, has done oil painting, oriental painting, china painting, wheel-thrown pottery, handbuilding, and sculpture.  Many of the pieces she did in Michigan feature low-fire Cone 6 glazes.  The glazes were applied with special brushes to achieve a watercolor look.
Since coming to Laguna Woods Village, Okja has been handbuilding and sculpting, including creating life-like busts of her four children.  These sculptures are fired once, with an application of black gesso and metallic patina to finish the sculpture.  She uses spray acrylic to preserve the finish.
Okja enjoys working with various clays that include Stoney White, Amador and Dark Brown.  She enjoys experimenting and has recently made several slab vases using tar paper templates.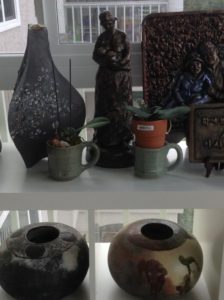 More photos of Okja's work:
We are happy to have Okja as part of our Potters and Sculptors Club, and to showcase her beautiful art work as our Featured Artist for October!