By Rosemary Schalek
This month, we are featuring the ceramic artwork of Potters and Sculptors Club member, Joe Bona.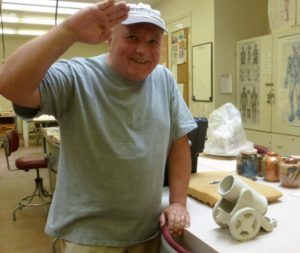 Joe was born in Hungary and he grew up there while Hungary was under Communist control. It was a very difficult time for the Hungarian people.
As a teenager, Joe read about America and dreamed about living here. He planned for five years how to escape from Hungary and come to America.
Finally, in 1966, when Joe was about 21 years old, he and a couple of friends escaped. It was a perilous journey, but he was able to make it to Italy via the Adriatic Sea. He stayed in Italy for a few months and booked passage to America, landing in New York.
Joe tells a story that the first sign he saw in New York read, "Watch your Step"! He took this sign to heart and the saying became his mantra for the rest of his life.
In 1967, Joe came to California and has lived in the Los Angeles area ever since. He was an engineer and retired about nine years ago. He and his wife moved to Laguna Woods Village shortly after he retired. Joe has a son and two grandsons, who live in Anaheim.
Joe comes from an artistic family – his mother was part of the art community in Hungary and his sister (who still lives in Hungary) paints. Over the years, he created many drawings.
Two years ago, Joe came to the Ceramics Studio and took Emeritus classes in both wheel and hand-building. Joe found that he enjoys hand-building and sculpting. He prefers building in Stoney White clay and frequently uses underglazes on bisqueware, finishing the piece in clear glaze.
Joe said he is happy and living his version of the "American Dream" here in Laguna Woods Village. We are happy to have him as part of our Potters and Sculptors Club, and to showcase him as our Featured Artist for November!