Patrick Crabb will be hosting a "Platters Plus" workshop this summer at the Irvine Fine Artts Center beginning on August 25 for 3 Saturdays. He sent us an email inviting members of the Potters and Sculptors Club to attend. Patrick also stated that one of our instructors, Scott Young will be one of the 30+ guest artists featured. The focus is to learn how to make large hand built platters from sand molds along with glazing techniques. You can go to the City of Irvine Summer Schedule, page 88, "Platters Workshop" for details.
LINK TO PAGE HERE
PRINT REGISTRATION FORM HERE
ONLINE REGISTRATION FORM HERE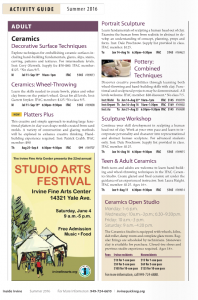 Did you know? (Just for Fun) American English has no mould, and British English has no mold.) However, many artisans and craftpersons often use the old English version "moulds".