I have pursued several major paths of discovery  over the past 35+ years in ceramics. The "shard vessels" (pots) reflects one path in creating forms and surfaces relating to archeological artifacts of ancient times. The broken surfaces and missing parts of each shard allude to the fragility of surfaces and passage of time from ancient vases and pots. The distinct, bright colors/patterns bridge the past with the present…contemporizing the image.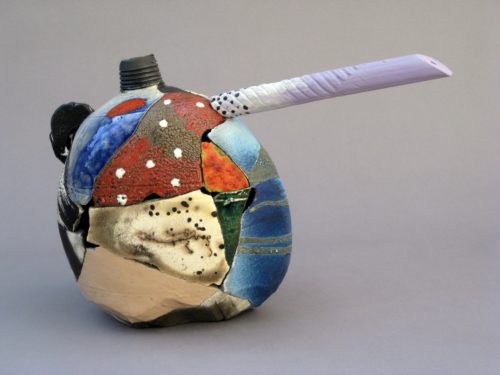 From the technical standpoint these vessels are both wheel- thrown and hand built. They are then altered during the wet state. After the initial bisque firing, the vessel is intentionally broken into fragments ("deconstruction") and ready to receive the glaze patterns. Many of the shards are fired in raku, oxidation c/06 (c/10 reduction also), sawdust-horsehair, low-temperature salt, and pit fired. Sandblasting, glass fragments, and actual shards of antiquity (1200-2000 years old!) are occasionally applied to enhance the visual variety. The parts are finally epoxied together.
My adoption of this unique technique was directly influenced by former artist, Rick Dillingham (deceased), who conveyed the concept of broken ceramic surfaces can be an artistic attribute, not a detriment. This approach makes a 180 degree turn in our cultural perception of what can be made beautiful and creative.
The second, but related path of discovery, comes from my temple series. They reference and reflect the countries that I have visited over the past 18 years of international travel. Those iconic temples of the Mayas/Aztecs, Cambodia's Angkor Wat, Asia's religious temples/stupas, Egypt's pyramids, burial mounds of the Incas, abandoned rock dwellings of the Anasazi culture, and more have impacted my creative efforts. These structures in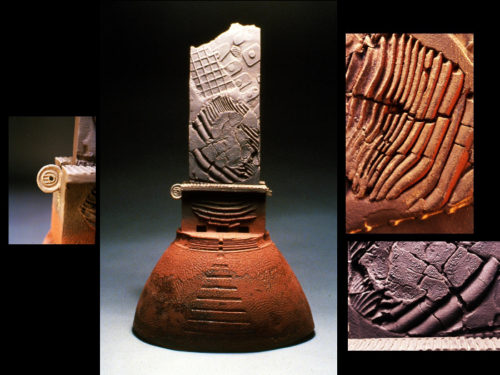 many ways are not dissimilar to vessels…"a holding space". These architectural forms are infused with multi-cultural icons, reflecting a sense of magical powers and mystery. They are not site-specific, but rather a collection of integrated images.
From the technical standpoint, these forms all hand build from specially designed wood molds (press mold). All are low temperature fired within the range of c/06-c/02. Many employ the raku and oxidation firings.
For more images/content, please visit:
www.patrickshiacrabb.com